Serving Warren County for over 25 years!
Above & beyond is a company that provides various water and flood damage restoration services for people in Warren County NJ and in the tri-state area for more than 14 years already. This company was founded in 1998 and it has provided these forms of services ever since. Their service is very important as flooding as well as other similar to such disaster which involves water is very dangerous as it can destroy or weaken the integrity of the structure which may cause in collapse and the health hazards connected with flood waters which is filled with septic fluids full of microorganisms which can cause illnesses and even death. Through the help of Above & beyond, their services will always be one of the most important gestures for people deeply affected by flooding disasters which can cause trauma and such.

Learn more about » Company | Certifications | Testimonials
Mold Inspection & Testing Warren County NJ

Above & beyond provides mold inspection and testing services for homeowners and residents in Warren County NJ. As mold proliferation is very much health hazards, especially if the cause of such proliferation is flood waters. It is important to immediately remove molds and mildew that have developed after a major flooding incident. Eliminating molds is not an easy task, especially if one is not a professional or do not have the skills and equipment to do so. Above & beyond is complete with the best and state of the art equipments to easily clean and rid homes of mold and mildew.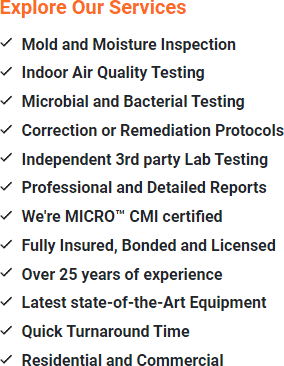 Mold Remediation & Removal Warren County NJ

Above & beyond also provides excellent mold removal and remediation process in Warren County NJ. Mold remediation is a complex process which is totally different from ordinary removal procedures. In Mold remediation, professional EPA certified experts will remove molds through EPA-approved processes and equipments in order to not only remove molds, but prevent it from ever growing again. Various anti-mold chemicals can be used to treat surfaces in order to avoid the proliferation of mold or mildew ever again.

Flood & Water Damage Restoration Warren County NJ

In the onset of floods and water inundation, damages are a surety. Water exerts pressure which can easily damage or compromise structures and can damage the structural integrity of any home. A water-filled basement can be very dangerous, as the pressure of the war pushes against the walls which in turn can flex and crack making it possible for water to seep into the cracks and will worsen the damage. Above & beyond water damage restoration service are perfect for such emergencies. Areas within Warren County NJ are all inside their reach. They have 24 hour service ready to respond to emergencies in a moment's notice.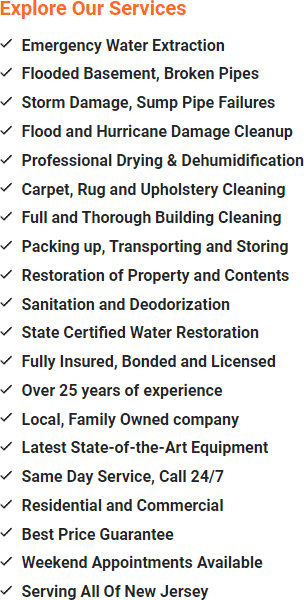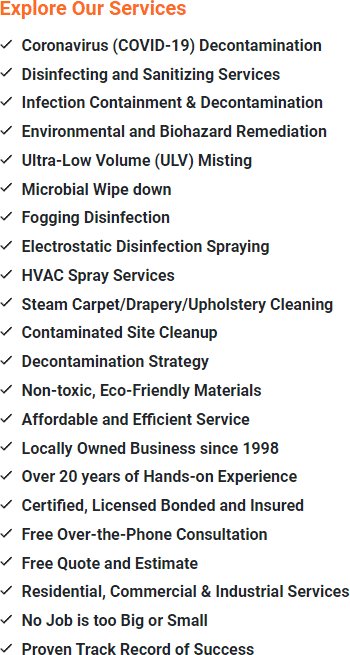 Visit contact us page or CALL us now (516)272-3304 for immediate response.
Serving all Warren County NJ towns and townships:
Allamuchy Township, Alpha, Beattystown, Belvidere, Blairstown Township, Brass Castle, Franklin Township, Frelinghuysen Township, Great Meadows-Vienna, Greenwich Township, Hackettstown, Hardwick Township, Harmony Township, Hope Township, Independence Township, Knowlton Township, Liberty Township, Lopatcong Township, Mansfield Township, Oxford Township, Phillipsburg, Pohatcong Township, Washington Township, White Township.


Coronavirus Disinfection & Cleaning in Warren County NJ
Floor to ceiling coronavirus disinfecting & sanitizing service guaranteed to kill 99.99% of 140+ viruses and bacteria including COVID-19.
Specializing in residential and commercial:
Water Damage Restoration, Basement Mold Remediation, Air Duct Mold Removal, ERMI Mold Remediation, Mold Removal, Mold Cleanup, Crawl Space Mold Remediation, Attic Mold Cleanup, Mold Testing, Mold Inspection and Flood Clean up in Warren County NJ New Jersey.
Resources

»

Official Warren County site Warren County's Wikipedia page

(516)272-3304
to get a FREE consultation

Or request a FREE estimate here!