Crawl Space Mold Removal NJ

Crawl space is the part of the house, located between ground and living space. The difference between crawl space and basement is that it is lower than average human's height and absolutely unsuited for living.
Due to excessive moisture conditions, mold in the crawl space is quite common in New Jersey. Overly humid climate, frequent storms with floods are among the reasons why we at Above & Beyond Mold Inspection & Removal deal with crawl space mold removal pretty much on daily basis.
Causes of Mold in Crawl Space
Crawl space mold is usually connected with high moisture content, which often caused by natural floods, by the exposure of ground soil and, surprisingly, by the presence of the open crawlspace vents (which brings in a humid hot air from the outside).
Among leading causes of mold in your crawl space are:
Bare earth floor with porous soil near foundation
Missing or damaged Vapor Barrier
Ground water due to high water tables
Rain and Flood water
Faulty or missing Air Duct Insulation Materials
Exposed Plumbing Pipes and Joists
Poor Ventilation or Lack of it
Outdoor air getting into crawl space from outside
Water Evaporation leading to condensation
Poor drainage and/or lack of rain gutters
High relative humidity (RH)
Warm temperatures
Lack of sunlight
Where does Mold Grow in the Crawl Space?
As is always the case with mold, in crawl space you can find mold growing on organic materials, such as:
Insulation Materials
Concrete Blocks
Ground / Porous Soil
Dirt and Debris

Wooden Studs and Subfloors
Any Organic Stored Materials
Around Plumbing Pipes & Joists
Around Drain & Rain Gutters
How Dangerous Crawl Space Mold Really Is?
Mold in the crawl space can be a serious cause for concern. Due to the fact that warm air inside the house moves from the bottom to the top of the building, there is a good chance mold spores would spread out from your crawl space in the living part of property, putting your family's health at risk.
Also, besides being a direct threat to your health, crawlspace mold can put the integrity of your building's structure in jeopardy and seriously affect property value.
Our Crawl Space Mold Remediation Process
Below is a sample crawl space mold removal protocol. Please note that the process will be slightly different in each case, based on your unique circumstances and job requirements.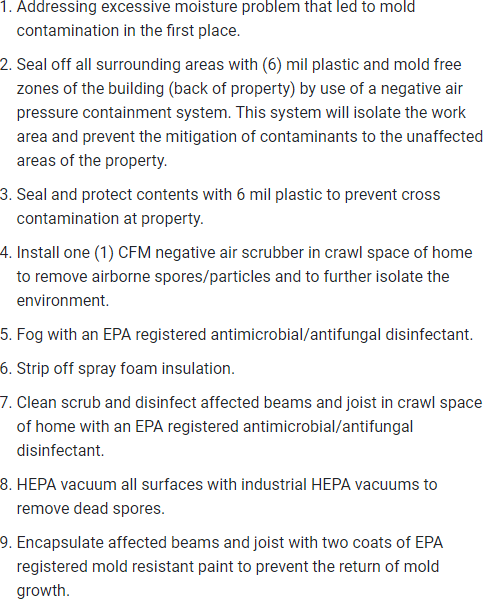 Our crawl space mold remediation process follows EPA guidelines and utilizes industry best equipment and EPA approved materials.
Checkout our sample mold remediation protocol for more detailed information.
Get Professional Help Now!
Call us today for a free over-the-phone consultation and to get affordable, worry-free crawl space mold removal services from our experienced certified technicians. Since 1998 Above & Beyond had completed thousands of residential crawl space mold remediation projects in New Jersey, leaving behind mold-free homes and happy customers.
If you are looking to remove mold from the crawl space yourself, then click here. Learn more about our conventional and non-toxic mold removal services or call (732) 490-5900 now for more information.