Attic Mold Removal NJ

There are many reasons why attic mold removal is best left to professionals. Attics are often very tight spaces, were you can easily get wooden/ fiberglass splinters or get punctured with one of many nail ends sticking out of your sloping attic ceiling. The lack of ventilation makes wearing full protection suit a must while performing mold remediation procedures in your attic.
And, of course, the last thing you want to do is spread mold spores from your attic to the rest of your house due to the simple lack of experience (and proper equipment). Above & Beyond Mold Inspection & Removal will take care of all of your problems related to mold in your New Jersey home.
Causes of Mold in Attic
Mold in the attics is more common than you may think. In a humid and flood-prone New Jersey climate, attic mold is going head to head with all-time leader - basement mold. It is usually caused by lack of ventilation as well as prolonged exposure to moisture. Among the most common causes of moldy attic are:
Improper Ventilation or lack of it
Minor and Major Roof Leaks
Faulty or Missing Insulation
Ice and Snow Damming Problems
Improperly exhausted Dryer, Bathroom and Kitchen vents
Heaters and Furnaces in the attic
Condensation Effect during cold season
Along with "usual suspects":
Excessive Humidity (Over 55%)
Excessive Warmth
Darkness (lack of sunlight/ultraviolet light)
Abundance of Organic Materials
Dirt and Debris
Where does Mold Grow in the Attic?
New Jersey attics provide optimal conditions for mold to grow and multiply quickly. Mold in your attic can grow on:
Wood frames, boards etc
On insulation materials
Around plumbing pipe & joints
Around roofing nails

Around Vent exhausts
Around Roof Soffits
On Dirt and Dust
Any stored materials
How Dangerous Attic Mold Really Is?
In most cases, mold in the attic does not really pose an immediate danger to your health. Due to the way warm air travels around the house (from the bottom to the top), mold usually stays contained within attic space, causing serious harm to your property.
However, there are situations when moisture can get inside of your house walls through the cracks in attic floor. Such mold can grow there for a long time without ever being detected.
Our Attic Mold Remediation Process
There is no universal attic mold remediation protocol – it varies from case to case according to your specific situation and condition. Typically, mold remediation in attic consist of these steps: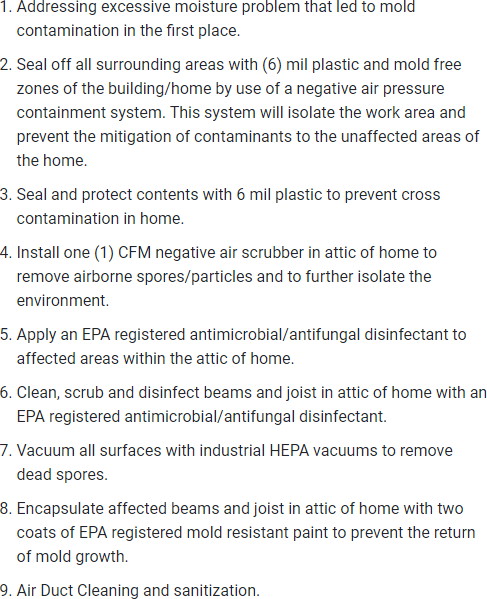 Our mold remediation process utilizes industry best materials and equpment availiable, and guaranteed to follows EPA guidelines.
You may also want to checkout our sample mold remediation protocol for some additional information.
Get Professional Help Now!
For the past 25 years Above & Beyond has helped thousands of New Jersey clients to feel safe in their homes again. Our dedication to provide the best service possible is one of the many reasons why our clients love us!
Learn more about our conventional and non-toxic mold removal services or call (732) 490-5900 now for more information.