Basement Mold Removal NJ

Basement is one the most common places to find mold around the house in New Jersey. Besides the obvious health and safety concerns, mold in basement makes it completely unlivable and puts the integrity of your building structure and property value in danger.
If you want to regain the control of your basement space, you need to start basement mold removal process before mold spreads out to the rest of the house. Our certified mold remediation specialists at Above & Beyond Mold Inspection & Removal will make sure your basement is safe and mold-free!
What causes Mold in Basement?
One of the main reasons for mold to start growing in the first place is excessive moisture. Basements are known for having perfect conditions for moisture to accumulate and sustain for prolonged periods of time. Among the most common causes for mold in the basements are:
Poor Air Ventilation / Circulation
Excessive Humidity (Over 55%)
Excessive Warmth
Darkness (lack of sunlight/ultraviolet light)
Leaking plumbing pipes
Flooding (nature or plumbing caused)
Clogged/Cracked Gutters
Clogged/Faulty footer drains
Sump Pump failures
Sloping grounds/ ground waters
Cracks in Foundation and Foundation Walls
Rain and Melting Snow from windows
Water Condensation on cold surfaces
Vapor Emissions
Lots of materials mold loves to grow on
Dust and dirt accumulated with time
Where does Mold Grow in the Basement?
Average basement is usually filled with piles of materials mold loves to grow on:
Walls and Wall Cavities
Floors (Wooden and Concrete)
Basement Ceiling
Any Wooden Material (Studs, etc)
Carpeting Materials
Paint and Wallpaper

Drywall Materials
Insulation Materials
Around Pipes & Sump Pumps
In/Around Ventilation System
Storage Contents
Any Porous Organic Materials
How Dangerous Basement Mold really is?
Mold in basement can pose a serious health risk due to the lack of proper ventilation. Also, since warm air prefers to travel from the bottom to the top, there is a great chance for mold spores to contaminate the rest of your house in relatively short period of time.
Due to the fact that people don't spend a lot of time in their basements, by the time you'll notice you got a mold problem, it is already too late to carry out mold removal in basement on your own.
Our Basement Mold Remediation Process
Basement mold remediation is a unique process, and depends on your particular situation and circumstances. Typically, the process consists of two phases: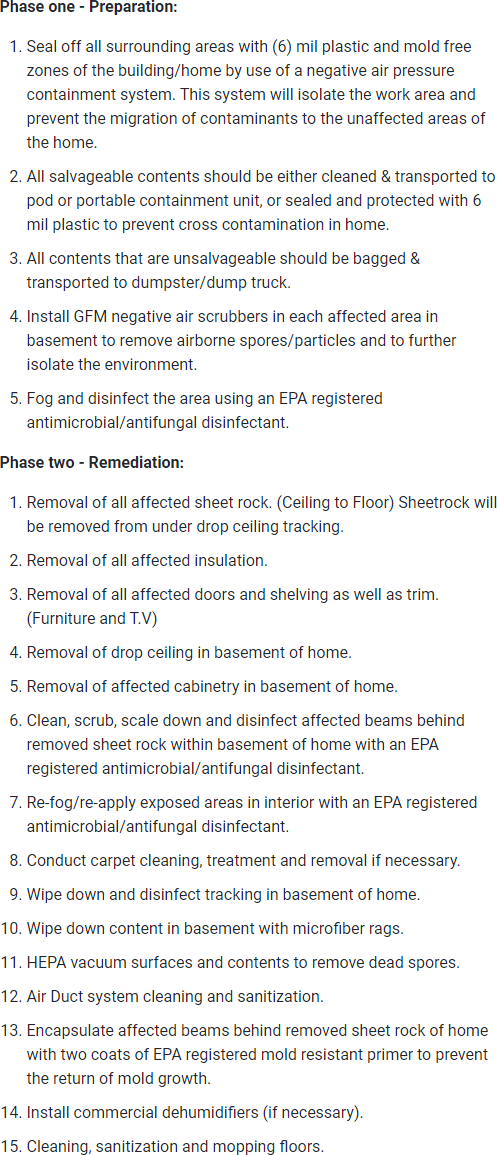 Our basement mold remediation process strictly follows EPA guidelines and utilizes industry best equipment and materials.
Check out our sample mold remediation protocol for more detailed information.
Get Help Now!
Call us today to get affordable, hassle-free basement mold removal service from our experienced professional staff. Since 1998, Above & Beyond has made thousands upon thousands of happy customers all over New Jersey and beyond!
Learn more about our conventional and non-toxic mold removal services or call (732) 490-5900 now for more information.